Eureka Springs Annual Tour of Homes Coming December 4th
Enjoy an evening of architecture, history, holiday cheer and hospitality as you visit marvelously restored homes and businesses in Eureka Springs historic downtown, the only entire downtown in American on the National Register of Historic Places.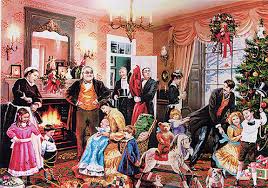 PRLog (Press Release) – Nov 19, 2010 – For almost three decades homeowners in this Victorian village have invited visitors inside their historic residences to share the joys of the holiday season. The tradition continues Saturday, Dec. 4, 3-8 p.m., when the
Eureka Springs Preservation Society
hosts the 28th Annual Eureka Springs Christmas Tour of Homes.
Fourteen locations are participating in this year's tour, giving guests a glimpse of a bygone era. All stops on the self-guided tour will be lavishly decorated for the season with Victorian attired docents at each site to relate the history of each home. Each residence offers an opportunity to revisit the grandeur of the graceful Victorian era and its unique, enchanting homes.
Dee Bright, Preservation Society president, elaborates. "Interior details such as grand staircases, ornately carved fireplace mantels, sparkling stained glass, and intricate millwork will all be decked in festive holiday trimmings."
Visitors will be treated to choir and band music, carolers, refreshments and merriment. Tour goers will also see elegant ladies adorned in their finery and dapper gentlemen dressed in tails and ties as they stroll through the only entire downtown in the country listed on the National Register of Historic Places.
"Remembering Christmas past is a great way to begin making memories for Christmas present," Bright said. "The attention to detail in each of the homes makes this tour truly special for architectural buffs, history enthusiasts, and those who simply enjoy beauty for its own sake." She concluded, "It's a lovely way to begin your holidays. If you've never been, come and immerse yourself in the magic, merriment, and mystery of a bygone era. And if you've celebrated the season with us before, we welcome your
family back for this fabulous holiday tradition."